Motivational Status in Hindi
Check the new 'Motivational Status in Hindi' and put on your WhatsApp Status. Motivational status for WhatsApp in Hindi, you can simply copy the status to your story and status or share the image for motivation and fill with positive motivation thoughts.
Hello Dosto agar aap 'Motivation Status' dhund rahe hai jise aap apne Whatsapp DP ya status main laga shake toh aap niche diye status ko apne status par share kare aur sabko positive energy se motivation de.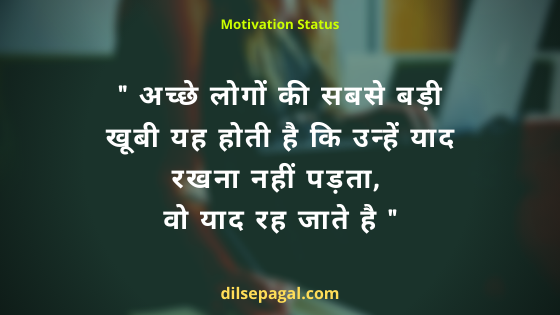 "Achchhe logon ?kee sabase badee khoobee yah hotee hai ki unhen yaad rakhana nahin padata, vo yaad rah jaate hai" ?
अच्छे लोगों की सबसे बड़ी खूबी यह होती है कि उन्हें याद रखना नहीं पड़ता , वो याद रह जाते है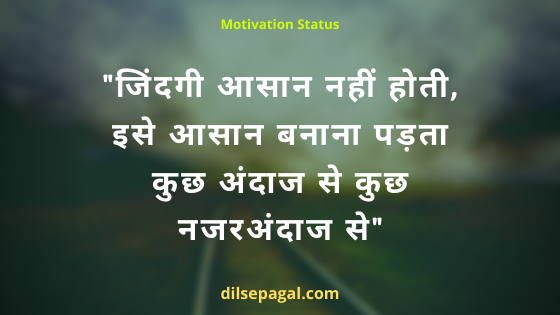 Jindagee aasaan nahin hotee , ise aasaan banaana padata kuchh andaaj se kuchh najarandaaj se
जिंदगी आसान नहीं होती , इसे आसान बनाना पड़ता कुछ अंदाज से कुछ नजरअंदाज से
अगर जिंदगी में सुकून चाहते हो तो , लोगो की बातो को दिल से लगाना छोड़ दो ।
Agar jindagee mein sukoon chaahate ho to , logo kee baato ko dil se lagaana chor do .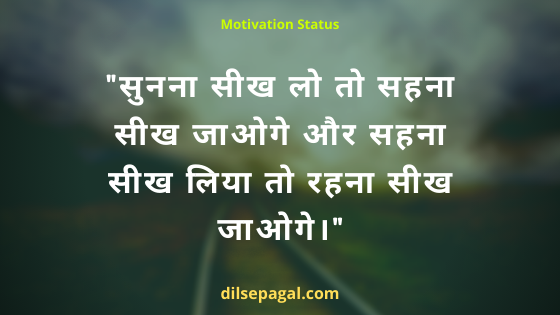 सुनना सीख लो तो सहना सीख जाओगे और सहना सीख लिया तो रहना सीख जाओगे ।
Sunana seekh lo to sahana seekh jaoge aur sahana seekh liya to rahana seekh jaoge .'?
पंखुडियां तोड़ कर आप फूल की खूबसूरती नहीं इकठा करते

– रबीन्द्रनाथ टैगोर
Pankhudiyaan ? tod kar aap phool ? kee khoobasooratee nahin ikatha karate
– Rabindranath Tagore
"विश्वास " खुद पर रखो तो ताकत बन जाता है दुसरे पर रखो तो कमजोरी बन जाता है
"Vishvaas" khud par rakho to taakat ?? ban jaata hai dusare par rakho to kamajoree ban jaata hai ?
Best motivational status in hindi
समझनी हैं जिन्दगी तो पीछे देखो जीनी हैं जिन्दगी तो आगे देखों ।
Samajhanee hain jindagee to peechhe dekho jeenee hain jindagee to aage dekhon
Best Motivational hindi quotes
यदि आप सभी गलतियों के लिए दरवाजे बंद कर देंगेतोसच बाहरहीरह जायेगा

– रबिन्द्रनाथ टैगोर
Yadi aap sabhi galatiyon ke lie daravaaje band kar denge toh sach baahar he rah jaayega
– Rabindranath Tagore
जीतने का मज़ा तभी आता हैं जब
सभी आपके हारने का इंतज़ार कर रहे हो
Jeetane ka maza tabhee aata hain jab,
sabhee aapke harne ka intazaar kar rahe ho
Best Motivational Status in Hindi
Motivation Status for WhatsApp
उम्मीद और विश्वास का छोटा सा बीज, खुशियां के विशाल फलों से बेहतर और शक्तिशाली होती है |

Umid Aur Biswas ka Chota sa Bij, khusiya ke vishal phalo se behtar aur shaktishali hoti hai
Motivational quotes for students in hindi
अपने लक्ष्य को ऊँचा रखो और तब तक मत रुको , जब तक आप इसे हासिल नहीं कर लेते है ।
Apane lakshy ko ooncha rakho aur tab tak mat ruko , jab tak aap ishe . . haasil nahin kar lete hai
छोटे – छोटे रोज के सुधार आश्चर्यजनक परिणाम की तरफ ले जाते हैं .
Chhote – Chhote roj ke sudhaar aashcharyajanak parinaam kee taraph le jaate hain